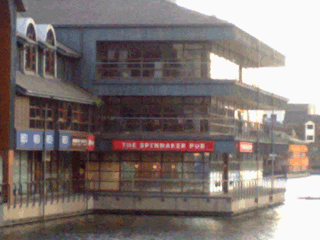 Reviews of The Spinnaker
Paulb
(Averaging 3.2 from 20 reviews)
6th May 2012 - A pub with a Wetherspoons feel about it. Situated by the river so it actually has a decent view as you try and put your finger on what is missing that would lift this pub out of the ordinary. A wide range of food and drinks, decent service from friendly enough staff. It also does a good pint of Guinness I've been told. A bit of a puzzle this one.

Brenda
(Averaging 3.1 from 19 reviews)
1st Mar 2012 - Lovely situation overlooking the water. Free Wifi. Guinness good and prices really competitive. Food also excellent and keenly priced. In terms of atmosphere, something lacking ... better music would help. They're doing a St. Patricks Week promotion of £2.89 for a pint of Guinness so no doubt we shall return!

fin
(Averaging 2.8 from 433 reviews)
1st Mar 2012 - Bit of a funny one really. The pub itself is built on stilts over Millwall dock, and affords a nice waterside location. The pub is quite small and the outside area is more of a walkway around the perimeter, not somewhere to sit or stand and drink. It's all a bit too false - pub in a box stlye design - and the interior felt to me like a cheap chain hotel breakfast area. Nothing particularly bad, nothing particularly remarkable. Clientele was largely male and suited.
Rating
Online
No website listed.
No Facebook page listed.
No Twitter account listed.
No e-mail address listed.
What's on
Every Tuesday at 19:00
The fourth/last Thursday at 18:00
Features
Greene King
It's a pub
Food available
Free wifi
Nearby pubs
Nearby Stations
Extra
Are you the landlord? Claim this listing by registering.