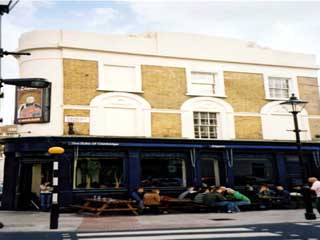 Reviews of The Duke Of Cambridge
Pubman79
(Averaging 3.3 from 86 reviews)
24th Jul 2012 - As i gawped like an excited 13 year old thats just discovered masturbating at the beer selection, my slightly backward friend actually spoke to the bar lady. She immediately informed us it was an organic pub. This blew my tiny mind as I never new such a pub was even possible. Organic Food and Beer and staff uniforms(the uniform bit may be a lie i can't be bothered to read the pubs website). Very impressive and the food menu changes daily depending what they can get. I had the Pitfield porter which always impresses me when I can find it. El backwardo next to me tried the Eco Warrior which was also pretty good. The tables are large and vary in size and shape as does most of the big front area. Most of the tables were being shared with couples at each end of the table. Normally this would annoy me but here it worked fine as most of the tables were more than large enough and the great atmosphere made it so you wouldn't be overheard talking about anal sex or whatever you chat to your partner about. I had a quick peek into the restauranty bit out the back and it looked a romantic spot. I will definitely be bringing my lady here and she will be in big trouble if she doesn't like it. Fantastic Pub can you please put another one next to where I live. If there was an award for best pit stop ever this would win hands down.

Visit two was during the afternoon and it all felt very relaxed and the only thing i'd like to add is the signs on the toilet door were at ankle height. Not sure if they were expecting a large midget population but could see no reason for it.

Cavalier
(Averaging 3 from 148 reviews)
31st May 2005 - I like gastropubs. Really, I do. I REALLY like them. I have been a converts ever since becoming a regularat the Eagle when it started the trend, followed shortly after by the Notting Hill bunch (Bonaparte, Westbourne, etc.). So I should really like this one. And it's fine, it 's OK, it passes. But somehow, I don't like it as much as I should. It's not just because the "organic" thing sucks a bit - I mean, the organic beers and wines is taking it a bit too far. It's not just that the service is not always as good as it should be. It's not just that it is slightly too big for comfort, or that they now have a "fine dining" extension with table service etc at the back. And it's not becuase it is a bit Islingtonian trendy in the more supercillious wing of the continuum, cos I is an Islingtonian and I think Islington rules. I just don't know why I don't like this place as much as I should. So, if I were you, I'd try one of the many other excellent gastropubs in Islington if you can - The Northgate, The House, The Social - unless you really must have organic and you are close to St Peter's Street. Then again, there's always the Elk in the Woods on Camden Passage if you are in that vicinity....

Natalie
(Averaging 3.2 from 238 reviews)
28th May 2005 - I admit I didn't try the food, so I can't comment on it's claim of being "the world's first certified organic pub" and just how tasty those morsels are. But it's behind the busy streets of Angel, has a huge selection of beer and wine, and has lots of seating space. Is rather expensive, but you'd expect it from an organic place in the area.
Rating
Online
Visit their website
No Facebook page listed.
No Twitter account listed.
No e-mail address listed.
What's on
There are no upcoming events.
Features
It's a gastro pub

Outside seating
Food available
Nearby pubs
Nearby Stations
Extra
Are you the landlord? Claim this listing by registering.