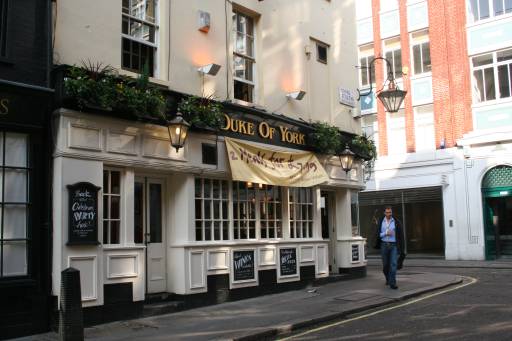 Reviews of Duke Of York

Jane
(Averaging 3.1 from 198 reviews)
2nd Dec 2005 - Good little boozer which doesn't look like anything special but seems to have a great atmosphere. They need to spend some money doing up the downstairs (and the loos) but definitely worth popping in for a drink or three.

Natalie
(Averaging 3.2 from 238 reviews)
16th Oct 2005 - One of those chain pubs with the cheap food menu, but lacks the cheap and dirty interior. Food took a while to arrive but bar staff were friendly and they are keen to let you hire space for parties. The 'games room' downstairs is kitted out with a pool table and a darts stand, without the darts board. Toilets are cramped. I would still come again for a cheap mid-shopping sit down.
Rating
Online
No website listed.
No Facebook page listed.
No Twitter account listed.
No e-mail address listed.
What's on
There are no upcoming events.
Features
It's a pub
Food available
Area to hire
Nearby pubs
Nearby Stations
Extra
Are you the landlord? Claim this listing by registering.