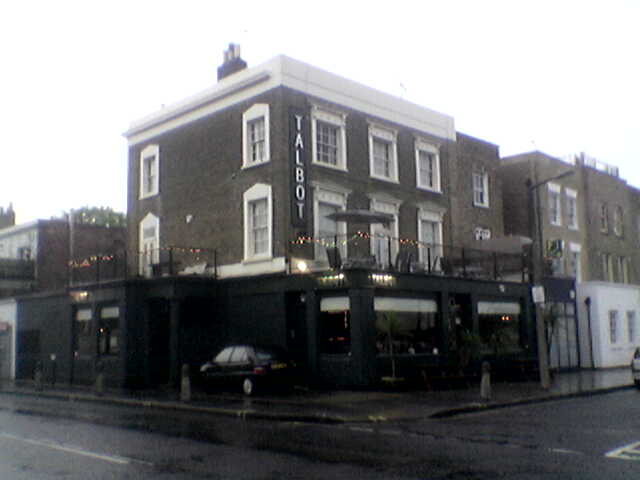 Reviews of Talbot
ajockj
(Averaging 1 from 1 reviews)
31st May 2008 - Considering its remote location the pub had a strange arrogance about itself with overambitious (and overpriced food) and condescending service.

Cavalier
(Averaging 3 from 148 reviews)
27th Jul 2007 - Great local pub. Qualities include: decent gastropubby food - but food is not the main market and there are no designated eating v non-eating areas. Frequent DJs on turntables - but not so loud as to stop easy conversation. Old sofas as well as tables. Great selection of beers and also cocktails. So mixes gastropub food with DJ bar music and lounge bar comfort and relaxation and cocktail bar choice of drinks and old fashioned pub range of beers and ability to chat. Simply a delight. And since the smoking ban the one downside - smokiness - has been eliminated leading me to give a perfect 9. The icing on the cake for those ultravioletly challenged is the possession of a roof terrace. Finally, for those that way inclined (and if you are not you should be!) it is a good place to go for a drink before going to the original (and best) Vietnamese canteen/restaurant on Englefield Road. Go there now.

fin
(Averaging 2.8 from 433 reviews)
8th May 2006 - Nothing special about this gastro-bar.
Rating
Online
No website listed.
No Facebook page listed.
No Twitter account listed.
No e-mail address listed.
What's on
There are no upcoming events.
Features
It's a gastro pub

Outside seating
Food available
Area to hire
Nearby pubs
Nearby Stations
Extra
Are you the landlord? Claim this listing by registering.