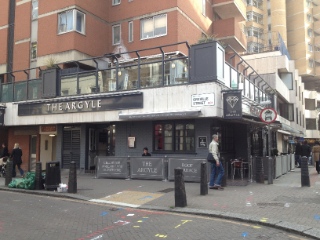 Reviews of Edinboro Castle

fin
(Averaging 2.8 from 433 reviews)
15th Mar 2012 - Bright, spacious and elegant gastro pub with large outdoor area. Perfectly acceptable place, ideal for a lazy Sunday brunch in the sun.

Jane
(Averaging 3.1 from 198 reviews)
15th Mar 2012 - Vast gastro style pub. Food looked good, service was ok, wide choice of drinks. I imagine it gets packed in the summer due to the big beer garden. Nothing wrong with it per se, but just didn't feel very 'cosy'. Great chandelier and twinkly lights though.

Natalie
(Averaging 3.2 from 238 reviews)
17th Sep 2007 - On a warm day, this is a great pub as it has a large, sheltered beer garden and when I was here two weeks ago, in early September they had a barbecue running. It seems to have a gastro-esque menu, which suits the style of the place - 30-something clientele and a wide range of beers. By far the niceset pub I've ever been to in Camden and having heard of others who had birthday gatherings here, I'd certainly consider it.
Rating
Online
Visit their website
No Facebook page listed.
No Twitter account listed.
No e-mail address listed.
What's on
There are no upcoming events.
Features
It's a pub

Outside seating
Food available
Nearby pubs
Nearby Stations
Extra
Are you the landlord? Claim this listing by registering.