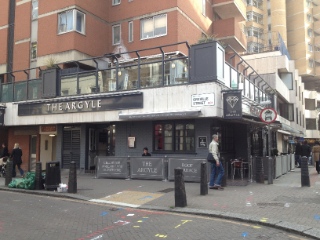 You're barred - the landlord's view
The landlord has registered but has not yet submitted a pub description.
Reviews of The Drunken Monkey

brydend
(Averaging 3.3 from 56 reviews)
6th Mar 2012 - I wasn't expecting to like this place but I did. It is a bar, and it is full of suits, but it does do a good job of being a good starting point after a day at work.
The lager seemed to be good, the staff reasonably quick (and very active about the place), so I would head back. I didn't try the food but will try and give it a go at some point.

Cavalier
(Averaging 3 from 148 reviews)
10th Sep 2008 - Doesnt really do it for me - resto/bar but neither a good enough bar nor a good enough resto. Feels like a chain/theme place but isnt a chain and has not enough of a theme. Place for large birthday gatherings but otherwise probably several dozen places nearby that do what you want better, with more individuality and with more intimacy.

fin
(Averaging 2.8 from 433 reviews)
25th Oct 2007 - Two thirds Chinese eatery, one third bar. It's not a Chinese restaurant, the food is only noodles and dim sum, so you come here for a snack and a drink. The menu is mostly concerned with drinks, listing beers, spirits and cocktails. Table service is a bit slow and going to the bar isn't the speediest experience ever either. However, all in all this ticks the boxes and is the kind of place i'd expect to go before or after doing something else, like the cinema, rather than it being the focus of a night out.
Rating
Online
Visit their website
No Facebook page listed.
@drunkenmonkeye1
No e-mail address listed.
Latest tweets
What's on
There are no upcoming events.
Features
It's a bar
Food available
Open late
Area to hire
Nearby pubs
Nearby Stations
Extra
This pub's data is maintained by a registered landlord or brewery.