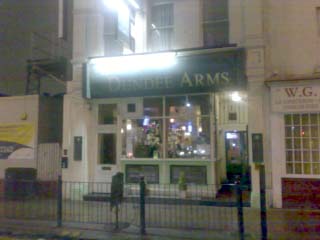 Reviews of Dundee Arms

Cavalier
(Averaging 3 from 148 reviews)
7th Nov 2007 - Irish-Eastern European-South Western Asian pub. With plastic flowers and all known spirits displayed. Friendly-scary bouncer-bar hanger. This place is a contradiciton. Or maybe I am? Actually enjoyed it, and it felt like the others in the pub (mixed bunch - natch) did too.

fin
(Averaging 2.8 from 433 reviews)
26th Oct 2007 - I wish I was a buildings engineer, then i'd be able to explain how the frontage of this pub is holding up the floors above it. Surely there should be a support post somewhere? Anyways, another normal pub in every sense of the word, with perhaps a hint of Irishness about it. The bar is very well stocked and very well layed out, all spirits and available drinks easily visible to the eye. I liked it.
Rating
Online
No website listed.
No Facebook page listed.
No Twitter account listed.
No e-mail address listed.
What's on
There are no upcoming events.
Features
It's a pub

Outside seating
Dart board
Nearby pubs
Nearby Stations
Extra
Are you the landlord? Claim this listing by registering.