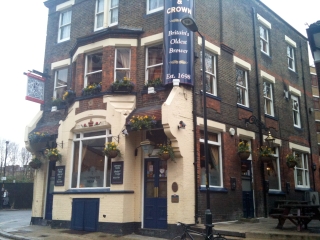 You're barred - the landlord's view
The landlord has registered but has not yet submitted a pub description.
Reviews of Rose And Crown

brydend
(Averaging 3.3 from 56 reviews)
26th May 2012 - The Rose and Crown is close to the world but feels tucked away from everyone and everything. The beer garden is large with lots of benches, but the word 'garden' doesn't do it justice. It is a drinking area that makes you feel as though you are a part of some sort of impromptu garden party.
For clarity, the Rose and Crown was visited on a gloriously sunny evening. My only complaint is the tall building that robs the pub of the later sunlight.
The beer is good and there is an extensive selection of snacks to soak up the ale.

fin
(Averaging 2.8 from 433 reviews)
25th May 2012 - Very nice Shepherd Neame pub. Large garden, good beer and an extensive (pub food) menu making it a very good location for lunch or even evening drinks and a snack.

No TV, no music, so a good place for a drink and a chat. There is a college and a sports centre nearby and so evenings are popular with people having a beer after an energetic game of five-a-side or netball. Must be a popular place for TV personalities - it is within a walk of the Southbank Studios - as there are many pictures on the wall of famous drinkers. Well, people who have appeared on A Question of Sport, as that's the only thing we can think links them!

Bit worried about the dead cat on top of the bar though. It's stuffed - not just a random dead cat. But still, troubling.

Cavalier
(Averaging 3 from 148 reviews)
1st Jul 2009 - Great spacious garden for summer drinking. Decent range of bitters, though light on the lager front. Quiet yet relatively accessible location. Not too busy but lively enough. Decent overall.

Steph
(Averaging 2.9 from 238 reviews)
12th Feb 2008 - Attractive locals pub near the south bank but sufficiently far away from both the river and the cut so as not to be inundated with tourists. Large beer garden means it will be a great venue in summer whilst the bar & lounge are cosy but not too small. Beer selection is somewhat small carrying only a portion of the Shepherd Neame range which is a bit of a shame.
Rating
Online
Visit their website
No Facebook page listed.
No Twitter account listed.
No e-mail address listed.
What's on
There are no upcoming events.
Features
Shepherd Neame
It's a pub

Outside seating
Food available
Area to hire
Nearby pubs
Nearby Stations
Extra
This pub's data is maintained by a registered landlord or brewery.